So you want to start a food blog?
Or any kind of blog for that matter. Awesome, welcome to the club, dude! Having the creative freedom to write whatever you want to write about and completely disregard grammatical rules is so liberating. If you're more visually adept, a blog is also a free zone for you to give physical form to your imagination and display your ideas how they appear and feel in your mind. Blogs are great in that they're entirely YOURS. What you put on there is a true reflection of yourself, uninhibited and unhindered. Sure you might feel a little naked and vulnerable at times but on the plus side, you'll draw people who resonate with you on all the fronts that you feel strongly about too.
Ok, I'll hop off my soap box now. Let's jump into the basic things that you will need to know to start a food blog:
| Blog Name |
Obviously, I'm no pro at this. I literally added my name plus the name of my lover, chocolate. I might as well have drawn a heart around it and carved it into a tree too. Choosing your blog name will probably be the hardest step of starting your own blog. It's no easy task when you want something meaningful, memorable and catchy. But what I have come to discover is that the name of your blog won't make or break you.
Addendum: If your name is something wildly absurd with a side of inappropriateness… that will break you.
| Time, Passion, Ideas |
These are the three behind-the-scene factors that no one else will see. These will drive you and motivate you to keep going. You're gonna need em. The first one can be a bit of a b*tch sometimes though. (tick tock tick tock)
| Content is King |
When it comes to what you actually display on your blog, substance is key. In the long run, if you keep posting high quality content, it will gain you faithful readers who will keep coming back. Conversely, if you post frequently but your content is below 'meh', you could potentially steer new readers away and lose your regulars.
| Keep Going |
With so many other blogs out there, it can be hard to feel significant at all and sometimes you'll feel like you're just talking to yourself. This goes without saying but like anything in life, you have to just keep at it to see results.
| Web Hosting |

Bluehost is a great server for self-hosted websites for several reasons: 1) Affordability 2) Multiple package types to accommodate the size of your readership and needs of your blog 3) 24/7 support. The staff are supportive and the process to buy your own domain is so streamlined/simple that you don't need any prior experience. I've been using Bluehost since I first started my own self-hosted blog and I have zero qualms with them! My blog is safe and efficient on their servers. Their cheapest plan starts at just $6/month for 2 years and includes a little extra than just the basics.
| Website Design |
A clean website theme that expresses your personality and food style is so important. It creates the vibe of your blog and can speak volumes in terms of art, design and mood. In the beginning and if you aren't taking blogging seriously as a career path, the free WordPress themes will be adequate. But for those of you who want more flexibility with the design and functionality, hiring a graphic designer or purchasing a theme that is modifiable will serve your purpose better. There were specific components that I wanted in a blog but the free themes just never fit the bill. Finally, years (5 to be exact) after I started blogging, I stumbled upon Station Seven and became the happiest human alive. I FINALLY found something that encompasses the soul, functionality and minimalist design of a dream food blog. Best part is that for only $68, you could get ALL of their beautiful themes which come with the Genesis Framework. If you're like me and like to change things up every once in a while, this bundle  of themes is perfect for just that.
| Useful Plugins and Widgets for Food Bloggers |
Disclaimer: I'm not a tech person. Definitions and descriptions may be fluffy, readers have been warned.
So that your recipes can be findable by Google and appear in a lovely format that identifies your link as a recipe. This plugin automatically codes the rich snippets for all of your recipes and picture thumbnails so that Google can track you down. But remember that Google is kinda choosy, so your recipe not always be on the front page of a search nor will it always show a thumbnail in the search.
So that your website can run faster. If you got the need for speed this plugin is perfect for you. Runs in the background so that your site can be fed to your readers faster.
So that people can search you on Google. Easy to fill in template is at the end of each post and page so that you can optimize the search-ability of your content. It also has a checklist SEO never made more sense.
So that people can write to you (kindly or hatefully, no filters), ask you questions and partner with you on cool projects. Biggest plus: this form is so so minimalistically pretty.
So that people can follow your social media platforms. Super customizable buttons that are easy to insert into your sidebar or footer.
So that when people hover over your pictures, a Pinterest button of your choice will pop up and allow them to share your pictures to their hearts content on their boards!
So that you can insert codes into one place and have it be in effect blog-wide. Manageable and easy. If you're code-illiterate like me, this is an easy way to insert code without having to learn CSS and other languages that you didn't grow up speaking.
| Monetization |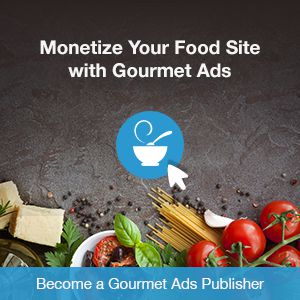 So now you know how to start a food blog and have been blogging away for a while. You're hitting a couple hundred views and starting to think, "hey, I wonder if I can make some moolah off my hobby". Well the answer is YES. If you're a food blogger, Gourmet Ads is who I would recommend. I personally use their ads on my site and love this company for a couple reasons.
1) Relevant ads!! Yesss finally. No more random ads that don't cater to your audience.
2) You don't have to reach a threshold to get your moolah. Seriously, for the first couple months, I was making $3-$5 and I still got paid. Helllo Blenz hot chocolate.
3) Registration is extremely easy. I was up and running in an hour ish (I signed up during business hours) The tech team will ask you what size ads you will like and they'll send you a file with all the ad tags. All you have to do with it is copy and paste into a text widget or the html of your blog post.
4) Extremely supportive tech team that will contact and follow up with you personally to let you know about upgrades and new ad ops to help you earn even more moolah.